Chad Le Clos
On the 31st of July, A young South African swimmer beat arguably the best swimmer of all time in the 200-meter butterfly finals of the London 2012 Olympics. Chad Le Clos had watched video clips of Phelps swimming for two entire years over and over and practiced hard to beat Phelps. He actually won because of a miscalculation by Phelps who made his final stretch to touch the wall of the pool a tad bit early. He should have put in one more stroke and then stretched but Chad got it right. When he looked up to see if he had it, you couldn't miss just how much the 20 year old was overwhelmed to discover he had won.
The presentation of the medals was particularly moving. Chad was all smiles as he stood on the podium and stooped down to have the coveted gold medal placed around his neck. His parents were up in the terraces oozing with pride as his mother blew her 20 year old boy kisses and his father waved the South African flag with both hands.
Chad
After the silver and bronze were also awarded, the three stood still as Chad's national anthem was played. As the anthem played Chad's eyes welled up and soon the tears poured, in no time he was sobbing. He had made his parents proud and had brought honour to his country. He would go down in history as the young 20 year old who took the great 27 year old Michael Phelps on and beat him.
Chad during the playing of the South African national anthem.
It is truly a great honour first of all to be chosen from all the countrymen and women who have dedicated their lives to master your particular discipline to represent your country. It is an honour to compete with the best people on the planet and to come out on top... very few things come close to such an achievement. To put your country in the history books as having come out at the top. What an honour indeed. Can you blame Chad for breaking down really? I think I may have shed a little something myself. It is truly remarkable.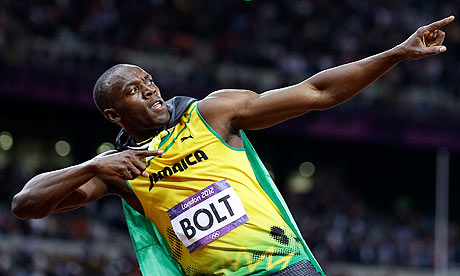 Usain Bold-Fastest Man on Earth
Many have achieved even greater things than Chad. Michael Phelps himself is probably the greatest Olympian of all time with a total of 19 medals, eight of which he took at the Beijing Olympics, and all eight were gold! Alexei Nemov competed in the 96' and 00' Olympics where he garnered a total of 16 medals. Who doesn't know the man whose name tells it all, Usain Bolt, the fastest man on earth? He broke the world record in one Olympics and won gold then came back to the next Olympics and broke his own world record and won gold again and has now cemented his name as the fastest man on earth yet again at the London 2012 Olympics. And what about Joyner's success from the 80s? She is a five-time Olympic medalist. In her first Olympics in 1984, Flo-Jo captured the silver medal in the 200 meters. She really stepped it up at the 1988 Olympics in Seoul, collecting gold medals in the 100, 200 and the 4x100 relay and silver in the 4x400 relay. And then there's Nadia Comaneci who became an international star during the 1976 Olympics in Montreal. Comaneci holds the distinction of being the first gymnast to earn a 10 in Olympic competition. Incredibly, Comaneci was only 14 years old when she captured her first gold medal!
Yet, here is the unfortunate thing, how many of these people do you know?
Chad? Phelps? Alexei? Bolt? Florence Joyner? Nadia? These are men and women who have achieved, in competitive sport, things that we could never even dream of. Men and women who have brought pride to their countries and families and have etched their names in history as the greatest in their disciplines and yet, we don't even know them! If we walked passed them we would not even recognize them. If they stopped us to introduce themselves to us by name, it would not likely ring a bell. That is really unfortunate. Sure when you achieve great things like this you get money but that money runs out, you get fame but that fame is clearly limited. The next generation is eager to erase your name and replace it with its own. You'd think that after you are long gone and have died atleast your name would remain on the lips of those who remain behind, but if so relatively few know you while you are alive, what are the odds?
No wonder the wisest man on earth said life under the sun is meaningless. If you can work so hard to achieve so much and still be relatively unknown, how meaningless life must indeed be. I support those who pursue olympic gold medals and world records, they will realize much more wealth and fame than the average man ever will. It is certainly better than sitting around picking one's teeth. But when it's all said and done, what they get out of it will never equal what they put in.
On that rather depressing note (truly life is depressing when you ponder it, even Solomon got depressed considering all these things), Happy Olympics!
"Only one life, t'will soon be past. Only what's done for Christ will last."